2006 Les Schwab Invitational Tournament

Oregon Basketball fans are the beneficiaries of a rare gift around Christmas time. During the week between Christmas and New Years the

Les Schwab Invitational High School Basketball Tournament

blends some of the best basketball talent in Oregon with top-ranked teams throughout the nation producing outstanding play, sellout crowds and an electric atmosphere. Oak Hill Academy, ranked No.1 in the U.S.A., claimed their fourth Les Schwab title as they held of a formidable challenge from South Medford in the championship game which was broadcast live on ESPNU. The tournament also featured a clash of the Oregon titans as South Medford squared off against Lake Oswego in the semi-final game showcasing Kyle Singler and Kevin Love, both at the top of the 2007 recruiting class.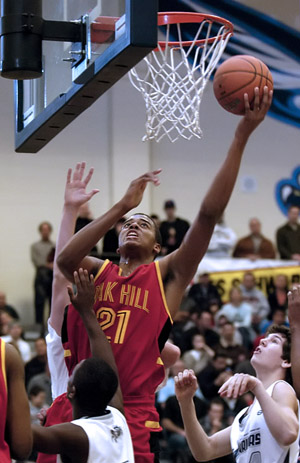 Oak Hill 107 - White Rock Christian 59 Julian Vaughn (21) of Oak Hill easily towers above the White Rock defense to drop in two of his 11 points during the opening round of the Les Schwab Invitational High School Basketball Tournament in Hillsboro, Oregon. Oak Hill went on to defeat Oregon's South Eugene to claim their fourth Les Schwab title. Photo © John Lariviere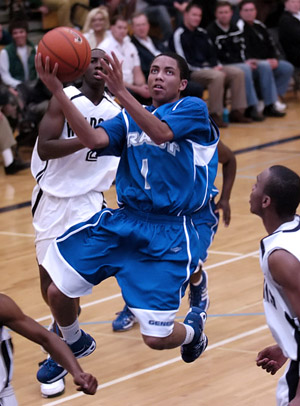 Grant 94 - Wheeler 84 Brandon Jones (1) soars down the lane for a layup against Wheeler from Marietta, Georgia. Jones scored 13 points as Grant surprised the favored Wheeler in the first round with a 94-84 victory to move on to the winners' bracket of the Les Schwab Invitational Tournament. Photo © John Lariviere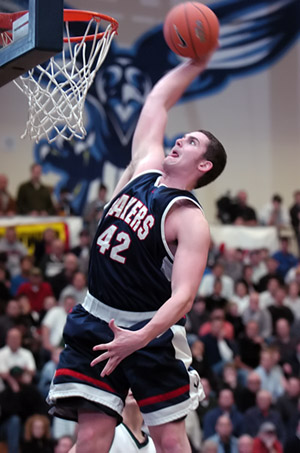 Lake Oswego 60 - Sheldon 30 Kevin Love of Lake Oswego jams home two of his 35 points during his team's first round victory over Sheldon of Eugene, Oregon. Love led all scorers with 35 points, 15 rebounds and two blocked shots. Photo © John Lariviere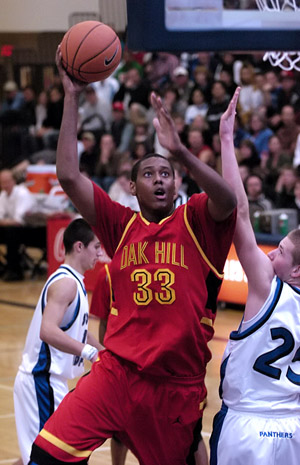 Oak Hill 99 - South Medford 90 Howard Thimpkins (33) of Oak Hill shoots a sky hoop over South Eugene's EJ Singler during the championship game of the Les Schwab Invitational Tournament. Photo © John Lariviere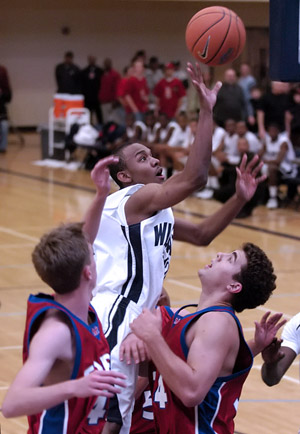 Mountain View 73 - Wheeler 58 Adrian Williams of Wheeler out of Marietta, Georgia goes over the top of Mountain View's Harper Kemp for a shot in the early going of consolation play during the Les Schwab Invitational Tournament. Photo © John Lariviere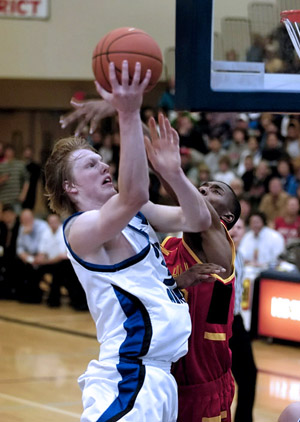 Oak Hill 99 - South Medford 90 All tournament team select Kyle Singler of South Medford slips past Oak Hill's Nolan Smith for a layup in the first half of the championship game of the Les Schwab Invitational Tournament in Hillsboro, Oregon. Oak Hill fended off a late surge from South Medford in the fourth quarter to win their fourth Les Schwab title with a 99-90 victory. Singler led all scorers with 39 points. Photo © John Lariviere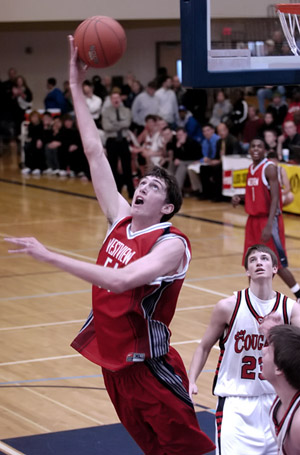 Westview 68 - Mountain View 50
Andy Poling of Westview converted on this reverse layup to add two of his twelve points during Westview's opening round game against Mountain View of Bend, Oregon. Photo ©
John Lariviere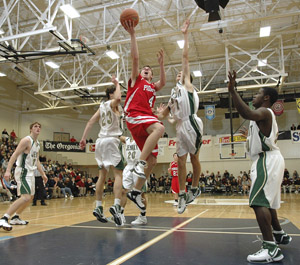 Oregon City 62 - Jesuit 52 Brad Tinsley (4) of Oregon City lays up for two points against Jesuit's Brad Gerbing (left) and Michael Hart (right) during first round play of the Les Schwab Invitational Basketball Tournament held at Liberty High School in Hillsboro, Oregon. Photo © John Lariviere